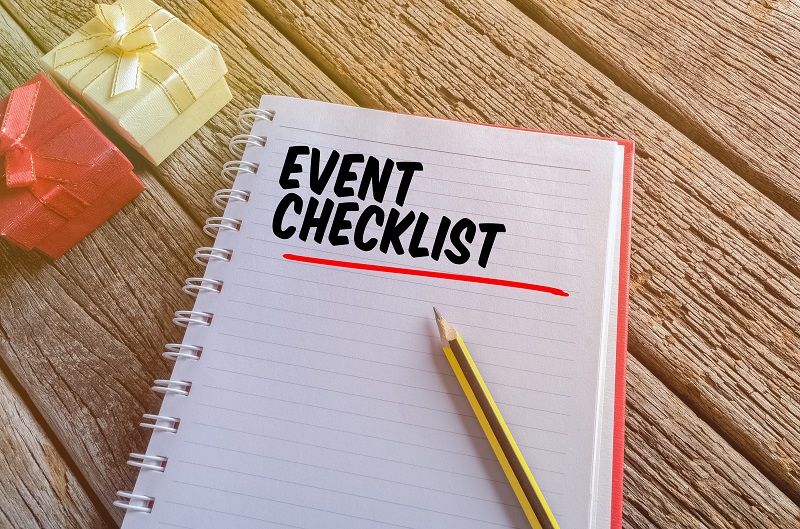 If you have an event coming up, chances are you have considered making a list for coordinating all that needs to get done. Event Checklists are valuable tools that allow you to gain a perspective of everything you need to accomplish prior to an event and makes it less likely for things to slip through the cracks.
Our work over the years has revealed that the most successful events (whether coordinated by an event planner or someone with very little event planning experience) are the result of a thorough event planning checklist. Here are the basics to an Event Checklist:
Budget – Have you allocated the monies needed to fund the event? Venue and material costs need to be funded for the event to happen. Whether an event for charity, a corporate retreat, or a wedding reception, constructing a budget is vital.
Time & Place – Select the most mutually convenient time for your guests to attend. Deciding on the location of an event is incredibly important, too. The venue should be relatively accessible and provide ample space. This item on the list should be visited early in the planning process.
Attendees – How are you planning on notifying people they have been invited to attend your event? Communicating this with clarity and detail is key. Choices today range from traditional invitations arriving in the mail, emailing the guests, to a social media invite to name a few.
Food, Drink & Materials – Most events require some variety of these, so it's important to gauge what's needed by choosing a menu and procuring items in advance of the event.
Logistics – Think about how all of this is going to come together! Are you creating and bringing the centerpieces or having it delivered?
Arrive early to the event venue to setup and provide ample time for unexpected challenges to be handled. Even the most diligent of event planners find themselves scrambling for help on the day of an event – but an event checklist definitely helps to minimize unneeded stress!
Are you searching for the perfect event venue in the Metro Detroit area? Club Venetian is conveniently located just off I-75 at the I-696 interchange in Madison Heights, Michigan. Contact us for a tour or to learn more about how our staff can help you with your upcoming event.