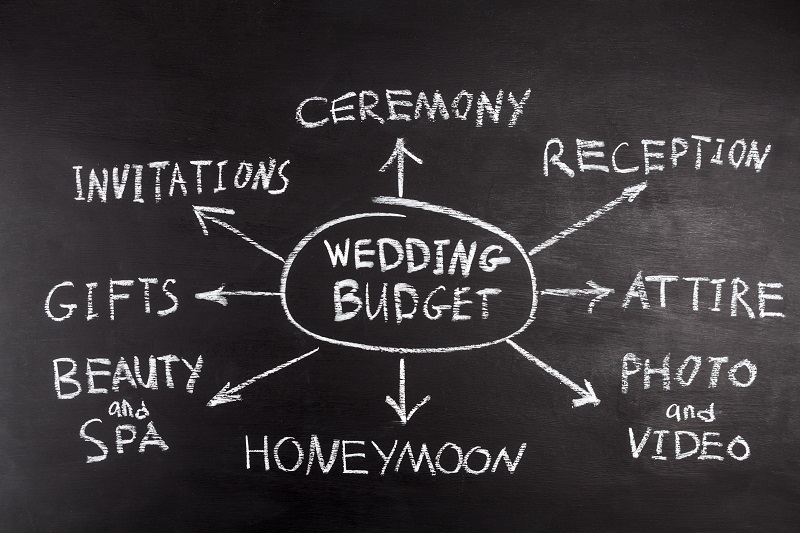 Many brides and grooms ask: "How much does a wedding cost?" That's not an easy question to answer. The average wedding in the United States in 2017 cost $25,764. The average spending per event was between $19,323 and $32,205. However, around half of all couples spent under $15,000 for their big day celebration. So how much will your wedding cost?
Know Your Wedding Budget
It's important to remember that each wedding is just as unique as the people who plan it. There is no financial requirement for getting married. Before you begin planning, consider your financial situation and how much you can afford to spend. Do you have enough to plan the whole thing right now while covering all expenses? Can you wait longer and save up the amount needed to pay for everything you want?
Your budget will help you determine which vendors or items are a priority and which can be trimmed or limited.
How to Keep Wedding Expenses Down
There are several ways you can keep costs down and put on a spectacular event. Consider the following to save money that could help balance your wedding budget or go towards your honeymoon.
Ask Friends and Family to Help – Enlist the help of friends and family to take care of certain aspects of the event. For example, see if anyone will help make decorations, bartend, or assist with setup. These services usually cost extra.
Choose a Budget-Friendly Venue – Certain venues and locations are in-demand and will come with a higher price tag. Find a venue that offers a balance of cost and amenities.
Invite the People Who Really Matter – Start by inviting only the people who really matter – close friends and family. Then, if you have spending room, start inviting other people like neighbors, coworkers, and acquaintances.
Consider Booking During Off-Peak Times – Consider booking your event during off-peak times. For example, summer is a popular season for weddings in many areas. This can cause the cost of services and rentals to go up. Also, consider booking on a day other than Saturday.
Planning an amazing wedding without overspending is possible. Contact Club Venetian today to tour our facility and find out how much your wedding will cost at our beautiful venue.